The History of Medicine Hat Golf & Country Club
The first general meeting of the shareholders of The Medicine Hat Golf & Country club was held in April 1913. Walter G. Lynch was the 1st president of the MHG&CC board of directors.
A tract of land, 6 miles east of the city, just off highway #41 at the top of Porter's Hill was secured by the club and the work of laying out and building & shaping the golf course commenced in early May of 1913. The golf course was then relocated to its current site in 1934, on land leased from the City of Medicine Hat.
In 1977 the city received a cultural recreational facility grant for construction of a new clubhouse. The new clubhouse was opened in the fall of 1979. In February of 1980 a fire destroyed the clubhouse and in the spring of 1981 the replacement clubhouse was completed. A further expansion of the Pro Shop, office area and storage areas were completed by the spring of 2011.
Article from the local newspaper in 1913 >>>>>>>>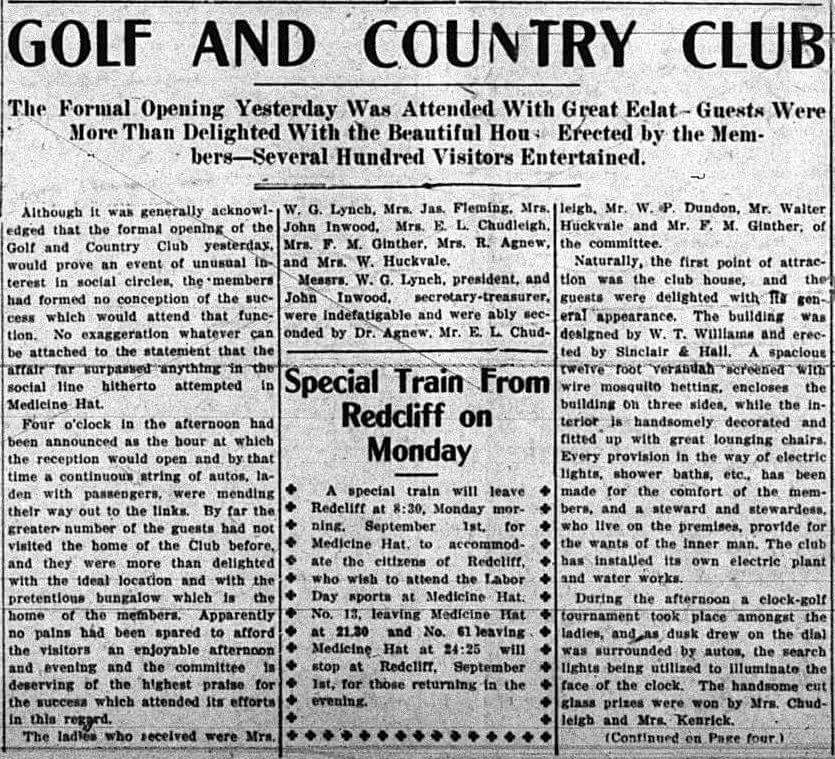 We have hosted a number of prestigious golf events
2020 Alberta Men's Amateur Golf Championship
2018 Canadian Junior Boys Golf Championship
2016 Future Links Western Canadian Golf Championship
2012 Alberta Men's Amateur Golf Championship
2004 Alberta Ladies Amateur Golf Championship